Temporary change tram service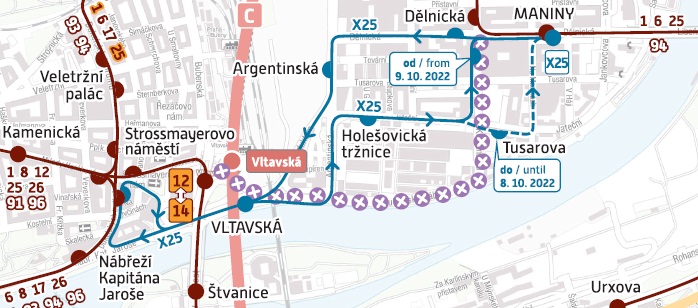 Dear customers,
as a result of the construction works on Bubenské nábřeží, will be no tram service between Vltavská – Dělnická  from 26 September to 15 December 2022.
How to get to us?
You can get to the stop Vltavská by tram n. 12 toward from Sídliště Barrandov and tram n. 14 toward from Spořilov, or with metro C and walk from this spot approx 700 m to Holešovická Tržnice.
You can use the alternative bus service X25 during the day, which take you to Holešovická Tržnice (in Jateční streert beyond the intersection with the street U Garáží). This stop is approx 500 m from ShowPark.
You can also use the taxi, which take you directly to ShowPark.
You can check more information via website just here.